[BPN #43] Believing in YOUR Productivity System + Visual PKM
Welcome to the Boldly Productive Newsletter!
We're down to the last article in the productivity principles series. I hope you've been enjoying it and have found it useful. Please let me know in the comments, or give this newsletter a thumbs up below.
Also in this edition is a new take on personal knowledge management using visual notes, or Sketchnotes. It's been fun to explore this way of approaching PKM, and I'm in love with it so far!
Please let me know what you enjoy about this newsletter and what could be improved. Your feedback is always welcome!
Email me: brennan@creadevlabs.com
---
Trust: Believe in the Productivity System YOU Create
In the previous article in this series I talked about the need to Simplify your productivity system from time to time.
The same goes for creating content.
This article is going to be a little different than those that came before. I've included a supporting Sketchnote in each of these articles, but this time I'm going to let the Sketchnote speak for itself. It's a good enough summary of what I'd like to say on the final principle in FIRST, Trust.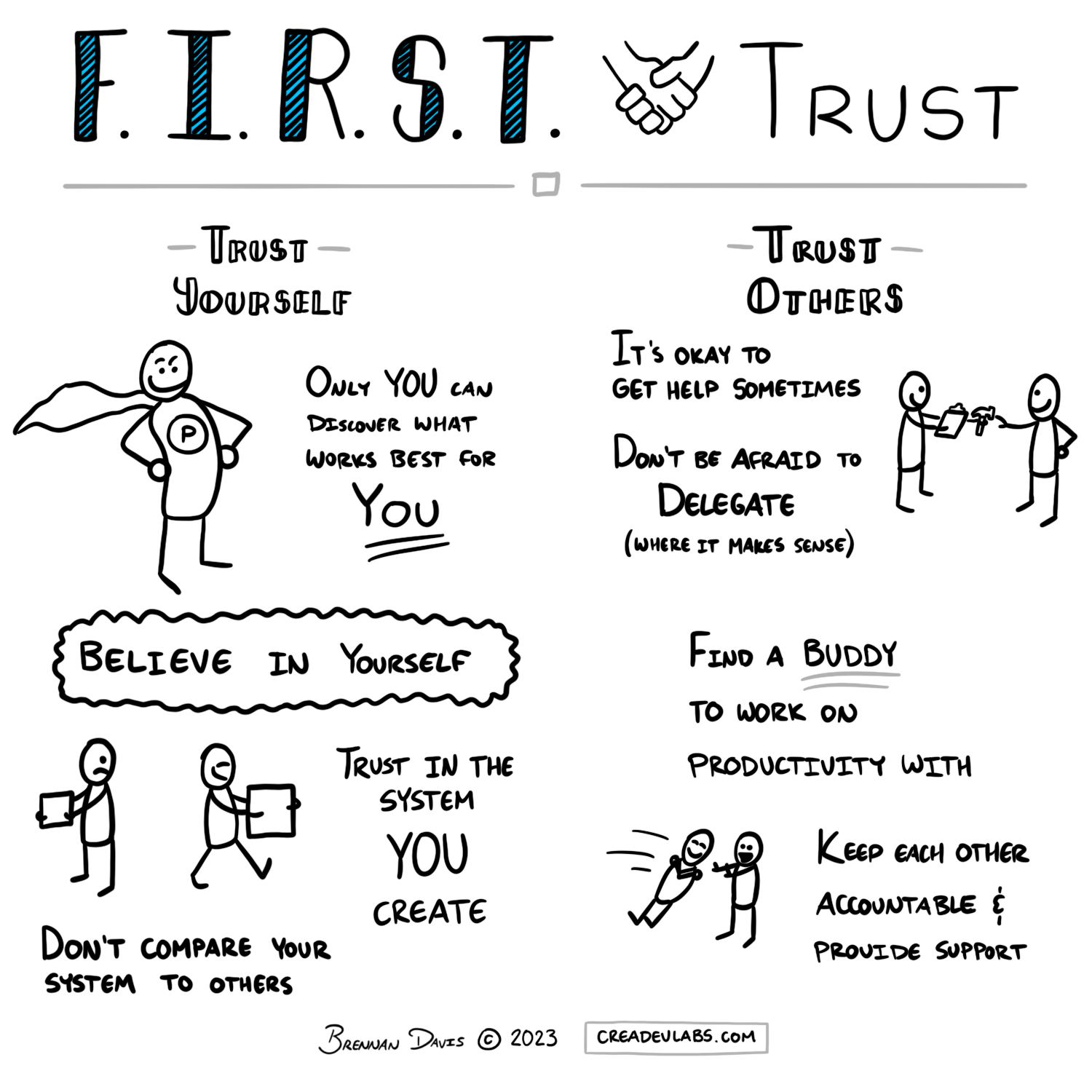 ---
Building a Visual Zettelkasten in GoodNotes
I love taking visual notes.
I love personal knowledge management.
I haven't found many resources around combining the two.
So, I explored the idea myself 😁
I recently came across a guide for creating a Zettelkasten in Obsidian, which sparked some ideas on how I could do the same thing inside my favorite visual notes app, GoodNotes.
I went ahead with those ideas, and here's how it went:
---
Read / Watch List:
Notes and ideas from others to explore
Article: Obsidian Zettelkasten Starter Guide
This is the Obsidian Zettelkasten guide I based my visual Zettelkasten in GoodNotes on. It's the best introduction to personal knowledge management I've come across.
Video: How to Leverage Being an Introvert | Simon Sinek
Don't let being an introvert stop you from achieving your goals.
---
Enjoyed this newsletter? Please forward to a friend, or send them this share friendly link:
https://creadevlabs.com/the-boldly-productive-newsletter-2023-05-15
Was this newsletter forwarded to you? Get your own copy each week by subscribing here!