[BPN #42] Simplifying Your System, Plus a Little Sketchnoting
Welcome to the Boldly Productive Newsletter!
I'm slowly getting back into the swing of things after getting over being sick. Clearly I need to do better at setting myself up for these times when life throws me curveballs!
I've got the latest entry in my productivity principles series, as well as a few videos on my favorite note taking style, Sketchnotes.
Thank you for being a subscriber! Any and all feedback is welcome!
---
Simplify: Keeping Your Productivity System Simple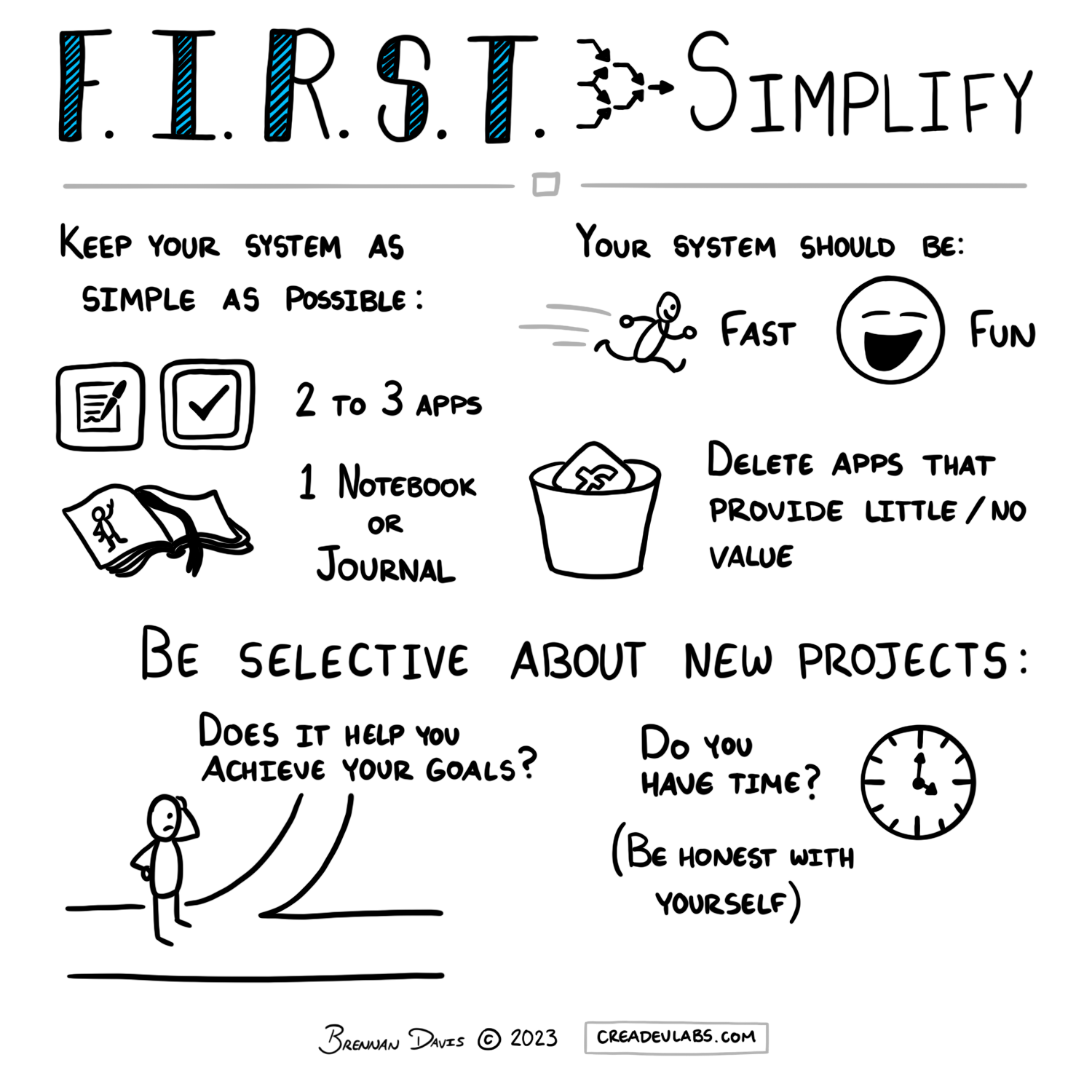 If you've been following along in this series, you've probably got the makings of a decent productivity system by now. You've found a few apps you like, and have developed a couple slick processes. Things are looking pretty good.
Or maybe not......
There inevitably comes a point when your productivity system gets bogged down with too many features and tools. The more things you add, the more complex it gets. As it grows in complexity, the harder it gets to use.
If you find yourself in this state, it may be time to simplify. You can start by asking yourself a few simple questions:
---
Experiments:
Things I'm working on to improve my productivity and personal knowledge management practices
Still playing catch up after getting over being sick. I've got a fun experiment in the works inside of GoodNotes which I'll share more about next week. Stay tuned!
---
Read / Watch List:
Notes and ideas from others to explore
Video: How I Use Concepts for Live Sketchnoting
A look at how Doug Neill of the YouTube channel Verbal to Visual uses the app Concepts to do live Sketchnoting with his community members.
Video: Visual Thinking in the Workplace
Some ideas on how you can use visuals to communicate and brainstorm while at work with your team.
---
Enjoyed this newsletter? Please forward to a friend, or send them this share friendly link:
https://creadevlabs.com/the-boldly-productive-newsletter-2023-05-09
Was this newsletter forwarded to you? Get your own copy each week by subscribing here!