CreaDev Labs Content Management (Notion + Obsidian)
Notion is a powerhouse productivity tool that enables you to build practically any productivity setup and workflow you can think of. It's ideal for creating project management workflows, and it's my app of choice for managing the content creation process for CreaDev Labs.
The Setup
Notion is built on top of databases, so I started by creating a database with a Kanban board view. Then I set about creating some properties, the first one being Status. The value of Status is what stage the post is in on the Kanban board. These stages are:
Ideas
Notes / Outline
Drafting
Editing
Images
Copied to Website / Scheduled
Published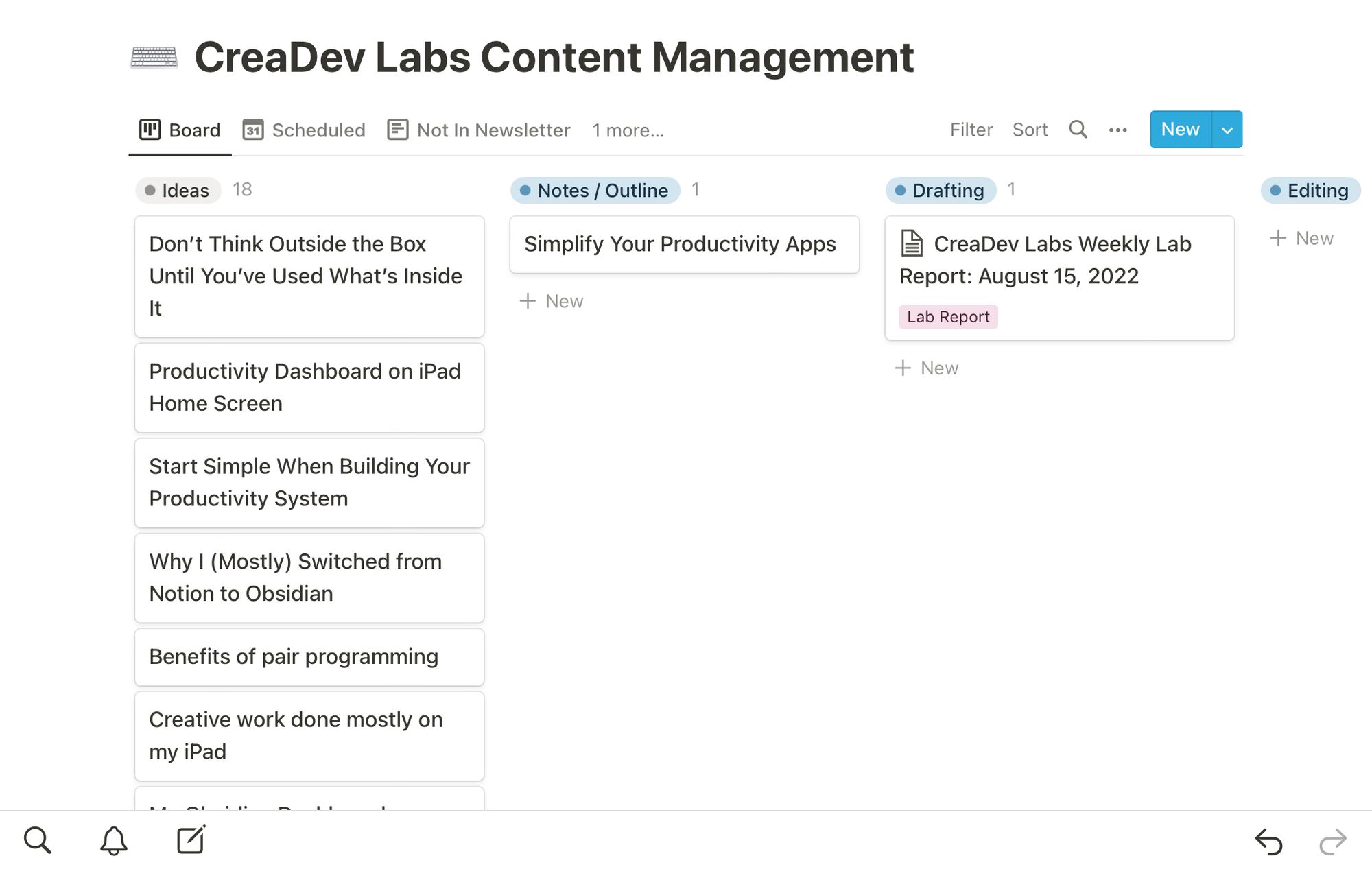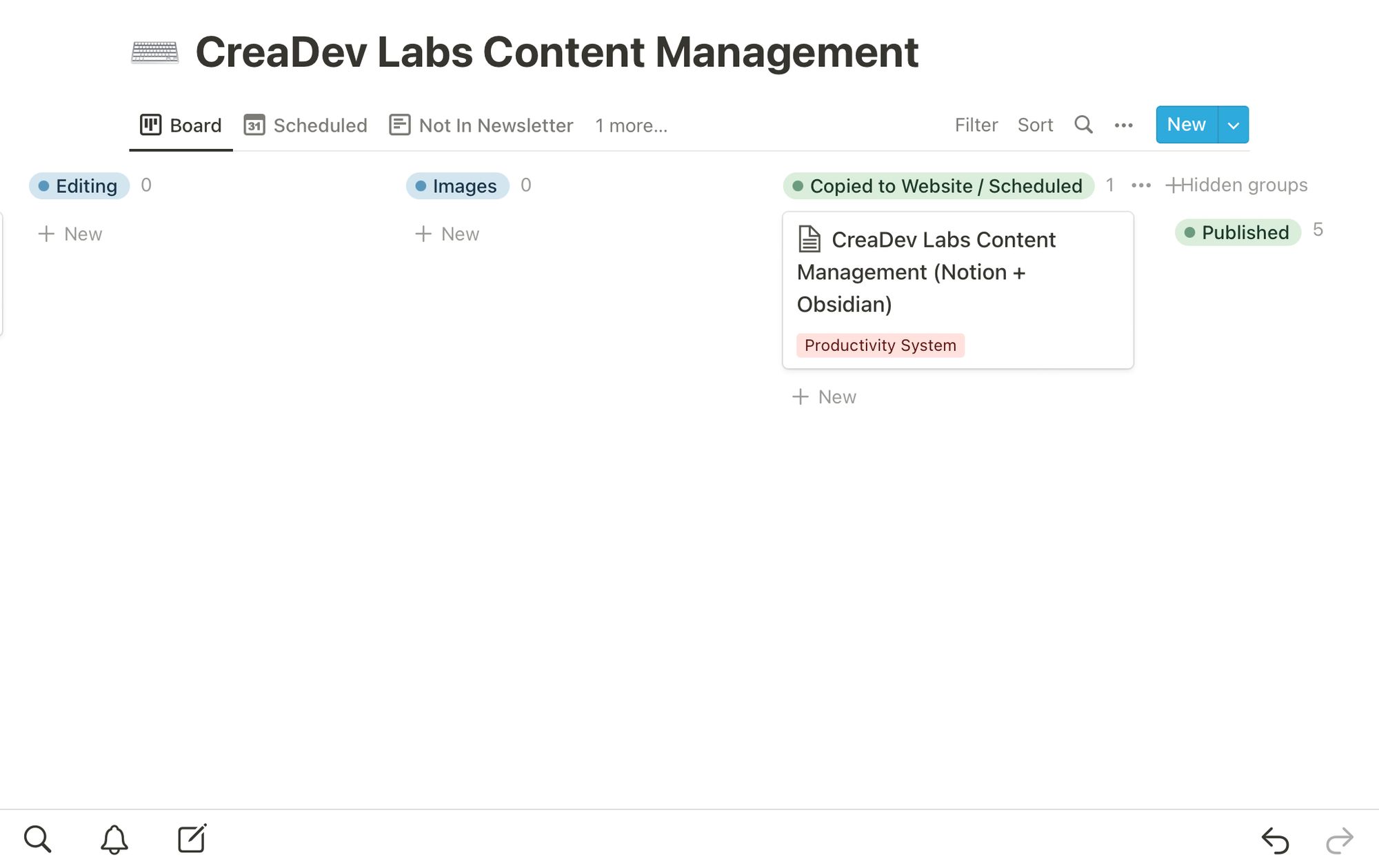 I can move the posts from stage to stage in the Kanban view, or set the Status when viewing an individual post. The other properties on each post are:
Notes (Obsidian)
This is a link to my notes for the post in Obsidian
Tag
Scheduled
Website Link
In Newsletter.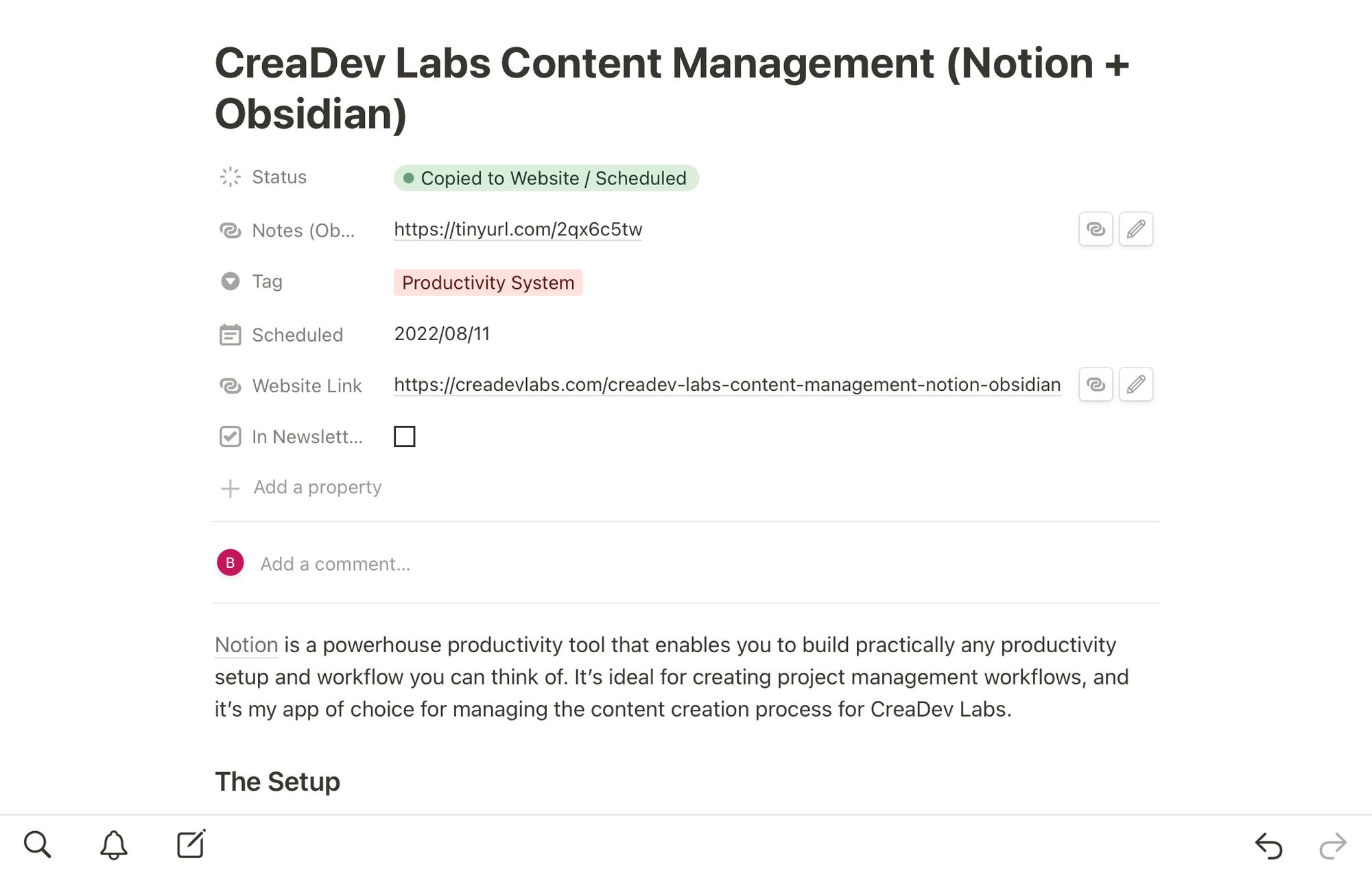 I created a few other views as well:
Scheduled
Ideas
Not In Newsletter
Scheduled is a calendar view so I can visually see when posts are scheduled to go out.
Ideas is a List view of the Ideas stage. I have this so I can more easily see what ideas I have to choose from.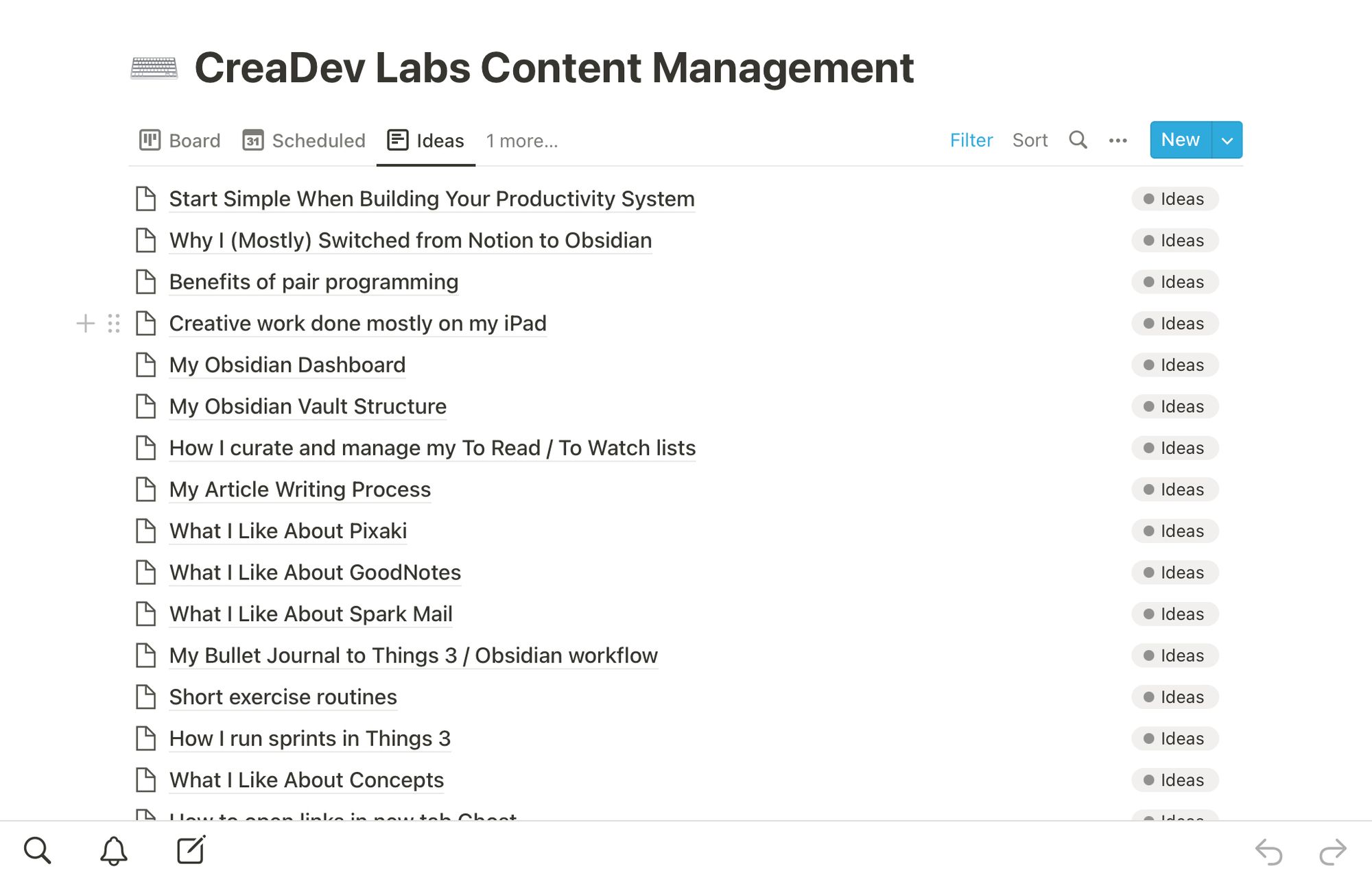 Not In Newsletter is a list of all posts that have been scheduled or published that haven't been added to my weekly newsletter yet. This way I don't forget to add them to the newsletter.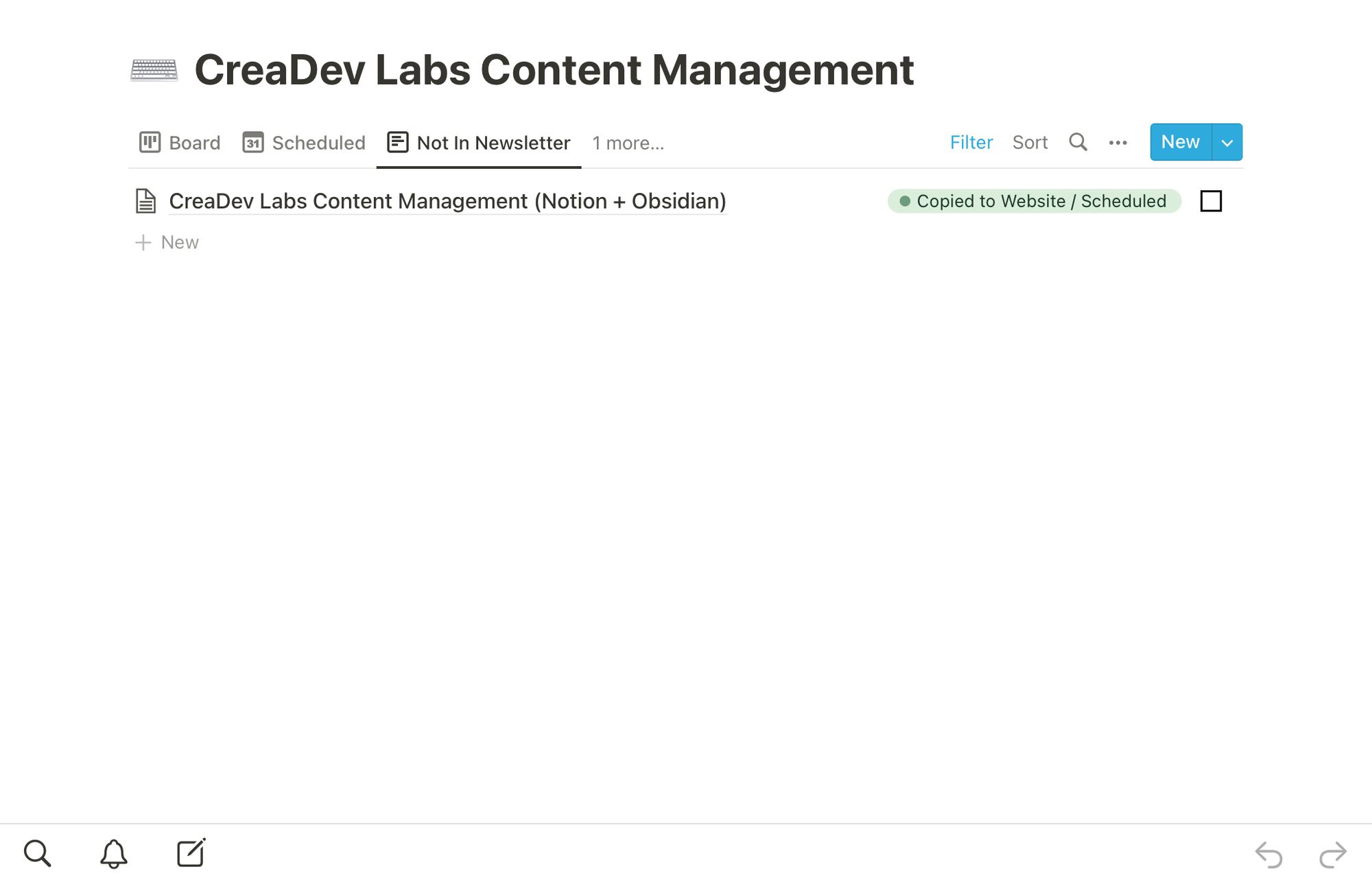 The Workflow
When I've chosen what idea I'm going to develop into a post, I move the post into the Notes / Outline stage, then create a note in Obsidian and link it to the post in Notion. Obsidian is my main personal knowledge management app, so I like to write up my notes in there and link to other notes and sources I want to use in the post. After I've got the notes and outline written up in Obsidian, I write the draft and do the editing in Notion. Once I've got the copy written and revised, I copy and paste that into Ghost, my content management system. If the post has images, I add these directly inside of Ghost (this is when a post is in the Images stage on the Kanban board in Notion). I do a review of the post to make sure all the images and links are working, then I schedule the post for publication. I try to remember to add a link to the post into the next newsletter, but I don't always remember right then, hence why I built the Not In Newsletter view so I could catch any posts that don't get added. The post then sits in the Copied to Website / Scheduled column until the publication date, then I move it over to Published.
---
And that's really all there is to it. It's a simple process, and so far has been very effective, much more so than when I was trying to manage everything entirely in Obsidian. If you'd like to learn more about how to build your own productivity workflows in Notion, you should check out Thomas Frank's Notion Fundamentals course on YouTube.