More Sketchnotes and Comics Coming Soon to Your Inbox (Hopefully)
I ran into a bit of a stumbling block last week when I attempted to send out the newsletter. Upon changing some settings with my email account, I managed to blacklist any emails coming from creadevlabs.com 🤦🏻‍♂️. So if you didn't receive the newsletter last week, there's a good chance it's hanging out in your spam folder.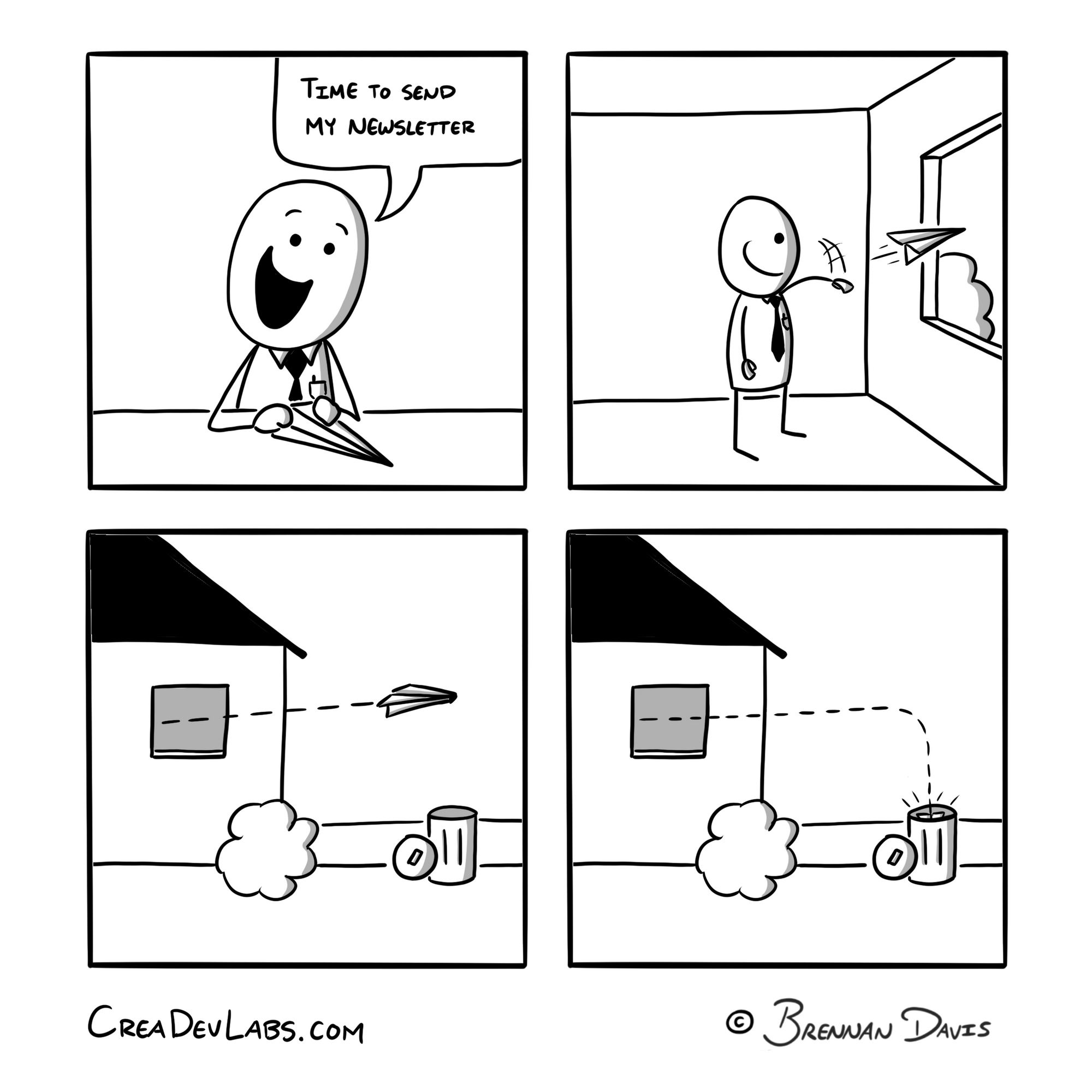 I've managed to work out the issues, so that (hopefully) shouldn't happen anymore. If you'd like to read last week's newsletter, you can check your spam folder, or you can read it here:
Help Me Help You Become More Productive
I appreciate everyone's patience with me as I get this newsletter going. If there's any specific topics you'd like me to cover, please send me an email at brennan@creadevlabs.com.
This coming week I'm going to be doing some reorganizing of the content on the site to make it easier to find things. I'm also going to be putting more Sketchnotes and comics on the site for I've received a lot of positive feedback on them. So look out for those on the site this week!
---
Tip of the Week:
A productivity system is much more effective when you have specific goals and projects you're working towards. The first thing to do, then, when contemplating starting or modifying your productivity system is to identify what you're working towards. Once you know what you're trying to accomplish, you can make a list of features you want your system to have, which will then inform what methods and apps you should use. Figuring out what the focus of your system is has a cascading effect that will make developing the individual components of your system much easier in the long run.
See Keys to Productivity: Focus
---
What I'm Reading / Watching / Listening to:
Article: 10 Ways I Turn What I Know Into Uniquely Valuable Content
I've been experimenting with different kinds of content in order to figure out the best way to share my productivity knowledge, so a lot of what I've been reading is articles like this about various content ideas to try. You'll probably see some of the ideas on this list in the coming weeks.
Video: LinkedIn Content Strategy: Post Ideas for Growth
Along with experimenting with content, I'm learning ways to share that content with a wide audience. Along with LinkedIn, I'm also sharing my content in a few productivity focused communities, as well as a couple Sketchnote ones. If you're enjoying the content I'm putting up each week, please consider sharing with others in your social media channels.
---
What's New on CreaDev Labs:
Productivity
Experiments
---
Questions? Please email me at brennan@creadevlabs.com
If you enjoyed this newsletter, please share with others on Facebook, Twitter, LinkedIn, or Pinterest